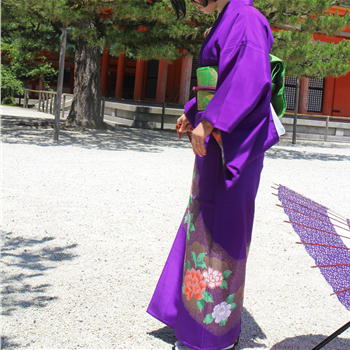 The unlined kimono sets are suitable for the season of early summer and early autumn.
We serve you them from May 1 to June 30 and from Sep. 1 to Oct. 10.
When you plan to wear a kimono in formal situation like a wedding party or some ceremony ,
you should choose a kimono set from Formal Unlined Kimono Sets.
In other cases , you could choose a kimono set from both of Formal Unlined Kimono Sets and Classy Unlined Kimono Sets.
FORMAL UNLINED KIMONO
Rental Charge : 6,500 yen

You can rent it until 9:00 a.m. in the next morning. The rental charge includes dressing charge and tax.

Contents

lined kimono , wide belt , socks, inner kimono , bag , kimono shoes, other goods to wear kimono , dressing service

Optional Service

simple or formal hair setting service

(500 yen / 1,000 yen)
CLASSY UNLINED KIMONO
Rental Charge : 5,500 yen

You can rent it until 9:00 a.m. in the next morning. The rental charge includes dressing charge and tax.

Contents

unlined kimono , wide belt , socks, inner kimono , bag , kimono shoes, other goods to wear kimono , dressing service

Optional Service

simple hair setting service

(500 yen)