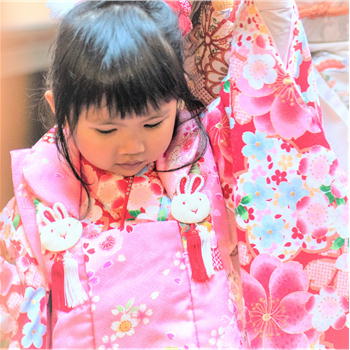 We have a traditional event ' Shichi-go-san' to celebrate the healty growth of children in Japan.
It's for 3 or 5 year-old boy and 3 or 7 year-old girl.
They wear a beautiful kimono and go to a shrine to pray.
The kimono sets No.cg3-01b , cg3-02b ,cb5-01, cg7-01 and cg7-02 are available for the ceremony.
Choose a kimono set suitable for the season.
Kimono Sets Variation
from Oct. to May

from June to Sep.
Kid's Kimono Sets from Autumn to Spring
Kid's Jimbei and Yukata from June to Sep.
Please apply for a jimbei and yukatabefore 2 weeks with the kid's size information.
Jimbei

Jimbei is a separated cotton kimono in summer.
When an adult also rents his kimono or yukata set, a kid's jimbei rental charge will be 1000 yen off.
Height : 85~105cm/2'9"~3′6"



3,500 yen
Jimbei

Jimbei is a separated cotton kimono in summer.
When an adult also rents his kimono or yukata set, a kid's jimbei rental charge will be 1000 yen off.
Height : 85~105cm/2'9"~3′6"



3,500 yen